This Is How I Feel
My 20 Favorite Tunes of '08 (*)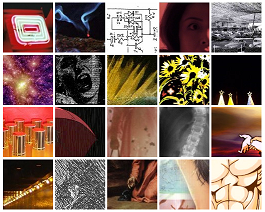 2000F & JKamata - "You Don't Know What Love Is"
A pick-up line so outrageous you're not sure you heard it correctly. P-funk via Denmark that crawls out of the swamp of recorded sound, unctuous and dripping with irony, vestigial limbs forlorn and swinging, syrupy and sinister. I may not know what love is, but, whatever facet is here on display, it's surely in rude health.
Shackleton - "In the Void"
You're surging through catacombs guided only by snare-claps whose period is long enough that most of the track is after-image. The whole EP is terrific — the closest dubstep has come to social significance since "Blood on My Hands" (also Shackleton) — but this is the standout: cold, unflinching, and primeval.
TRG - "Broken Heart (Martyn's DCM Remix)"
A dial tone stretched to infinity. When Joe Nice first played this: "Martyn," he said, "what, are you hanging out with supermodels, brother?"
Pattie Blingh - "Brother (2562 Remix)"
Archetypal or typical; woozy or lazy; beamed in from outer space or phoned in from the Hague: it's not clear how much work it took to transform this already-great song into a classic (see also Kulture's remix of Erykah Badu's "Tyrone"). But classic it is, and if all 2562 had to do was add water, his hydroponics are unmatched.
Quarta330 - "Sabacco"
Restless energy becomes panic becomes a spasmodic square-wave chip solo. If "Request Line" smuggled a gun into the rave, "Sabacco" lands a helicopter on the roof.
Mala - "Miracles"
Mala preaching to the choir: sub, cymbals, and roots 'n' future samples.
Ikonika - "Loser"
Every full moon I have to play "Altered Beast."
Joker - "Snake Eater"
Joker may not care for this one, but I think it's 1337.
Rings - "Is He Handsome"
Rattles the doorknob, shakes the frame, rusts the hinges.
Pangaea - "Router"
Burial's best track. That it was assembled by Pangaea is a technicality.
Geiom & Marita - "Reminissin"
Marita wistful against the marching, implacable beat. See also the remixes by Kode9, Skream, and Shackleton.
Joker - "Digidesign"
Joe Hisaishi's theme to Totoro with a tower block in the background instead of a camphor tree.
Cluekid - "Hovercraft"
When the rush wears off.
Cotti - "The Search"
Brutal bass workout.
LD & Cluekid - "Don't Wanna Cry"
On a recent Sub FM set, Baran, discussing the upcoming Star Trek movie, says, "it's always the same, though. People nowadays can't come up with nothing new, they just gotta change old stuff . . . don't even get me started" — as Cluekid is laying down wall-to-wall jungle.
LV & Dandelion - "CCTV"
As languid a protest as ever recorded.
Joker - "Hollybrook Park"
Tons of unsung Joker tunes I had to leave out — "Solid State," "Electric Sea," "Nicole," "Untitled.RSN," "A Place Called Bristol" — all fantastic, but "Hollybrook Park" is the sharpest crystallization.
Quest - "Stand"
Out of place opening Generation Bass — tossed in for the sample and quickly mixed out of — this serves better when it's allowed to unfold. There's a two-note sound throughout — maybe a whistle, maybe a rusty playground swing or merry-go-round — that gets me. It's not just me; the song famously brought people to tears when it was first played out.
Gravious - "Polygon"
Breathy cooing over compu-chimes? I'll meet you at the strip club. See also "Victoria's Secret" by Caspa & D1.
Black Pocket - "U're A Star (Martyn Remix)"
Martyn leaving contrails at this point.
---
(*) "of '08"
Some were first recorded in '06, were huge in '07, and were finally released on vinyl in '08; others have yet to be released but were so definitive I couldn't omit them. I did have to leave out the ones without names — or Silkie and Skream would both have been up there — and, as if the list weren't already unforgivable, I had to stop at 20.
---